I had planned to do the Sierra Club Backpack in the Cave Run Lake area led by Jerry Redden and Nancy Bonhous scheduled for the October 8 weekend. That outing was rescheduled for the previous weekend, a time when I already had firm plans. The rescheduling took place before I attempted to sign up, so the situation was all my fault. I was psyched up about trying a new place, my wife had already made plans to visit our daughter in Connecticut, so I decided to go alone. I did try to recruit a couple of friends to no avail. This little essay is to relate my experiences.
Planning
I have done four Jerry led backpacks, three of which had unexpected adventures. See Jerry's article in the June The Cumberland for an account of my most recent backpack with him. The point being, I know the basic things about food and equipment. The main issue was determining a route in an area I did not know. I wanted a three day loop in the Cave Run area i.e. I wanted something similar to what I would have done with Jerry and Nancy. On my shelf I found a trail guide, Day & Overnight Hikes Along Kentucky's Sheltowee Trace, by Johnny Molloy. There I found what I was looking for — the Buck Creek Loop. The total distance is only 13.5 miles. I am not in the best of shape, so that was fine. My wife requested I leave my itinerary with a friend — she wanted to be able to find my bones in case I didn't come back. Giving a few pages from the guide to a friend satisfied her request.
Day 1
Day one was scheduled for only 1.7 miles, so I went to work as usual in the morning. I left work at noon, stopped at Charlie's Seafood, picked up one of his famous fish sandwiches, and ate it at a park. I drove to Salt Lick and then on to the Clear Creek Recreation Area. The prescribed parking place is the boat ramp parking lot. It was nice to have parking off the road. I was a little concerned in that my car was the only one in the lot. However, there were no problems, and there was more activity when I returned.
The Sheltowee Trace goes through the Clear Creek area. I started at about 2:30pm, heading north. After a few minutes, I met a caravan of horse riders. They were a friendly group — "How ya doing", "Need a ride", "Did your horse get away", etc.. At the end, I was groping for new replies. In 30 minutes or so, I turned onto the Buck Creek Trail. The first part is long and sometimes steep. As I neared the top, I looked back and saw that the caravan had looped around and were now following me. At the top, I stopped for a rest, and the caravan started to regroup several yards away. One rider said to another "… he made it up that hill". Insult or compliment? I don't know.
I continued along the Buck Creek Trail, now going down a pretty valley along a creek. I reached the Cross Over Trail going off to the left. I had missed the designated first night camping site. There was a lot of daylight left, I thought it good that the last day be the short day, so I continued. I turned left on the Tater Knob Trail. The best showing of wildflowers was along this segment, including nice specimens of a Great Blue Lobelia and a Wreath Goldenrod.  Thanks to Betty Hall for identifying these from my pictures. I reached the Tater Knob fire tower as the sun was getting low. Fire towers are now obsolete, and most have been removed. The Tater Knob tower is the only one remaining in this area. The tower itself is only about 50 feet tall. It gets its elevation by sitting on top a tall natural knob. The view from the top is wonderful, particularly in the late afternoon sun. There is a 360 degree view of hilly forest land, broken only by a view of Cave Run Lake in the distance. The leaves were still mostly green, but there were some bright reds and yellows.
I made camp in a nice spot shortly after leaving the tower. I had hiked about 3.5 miles, met one man doing a day hike from the Clear Creek Campground, and saw three college-aged girls scampering down from the fire tower. I had supper and squared away my gear. I leaned up against a tree, had an after dinner drink, and contemplated until bedtime. Supper time to bedtime was the only time I felt lonely. The moon was nearly full and very bright. In my tent, it sounded like a light rain outside. But it was not — I decided it must have been falling leaves hitting my rain fly.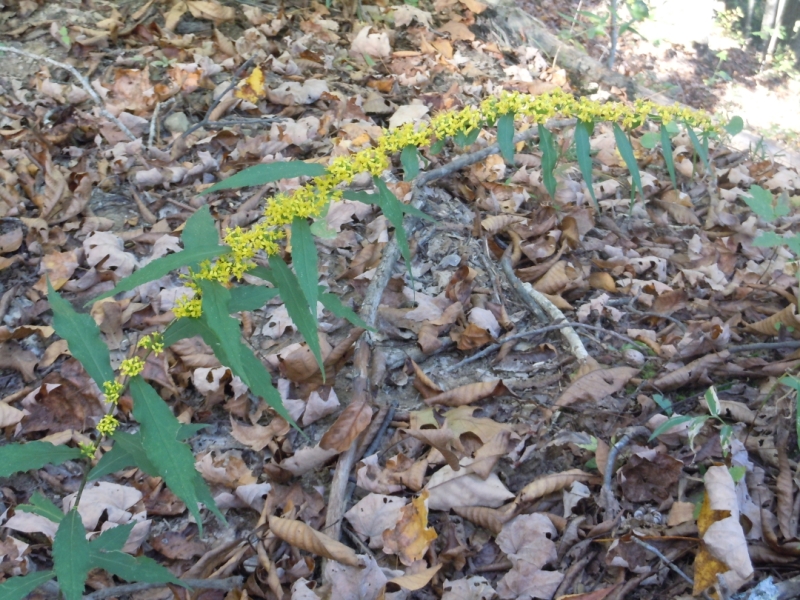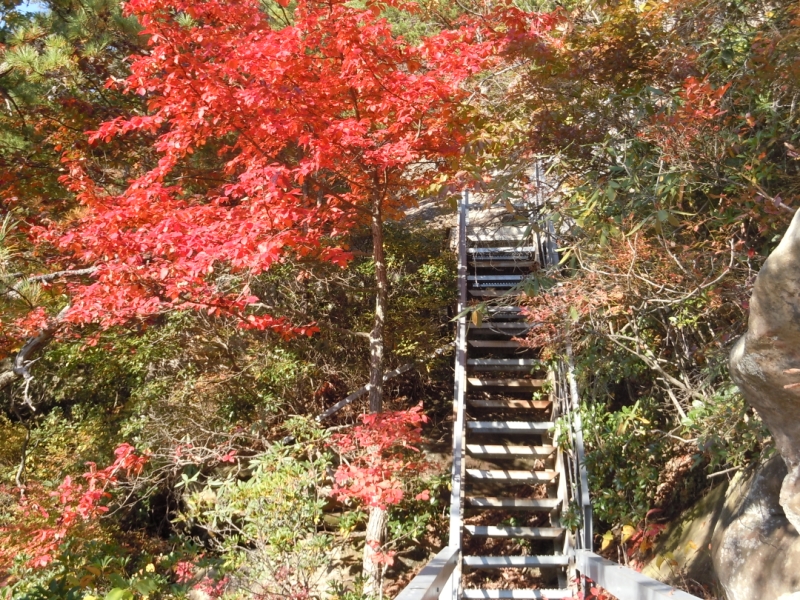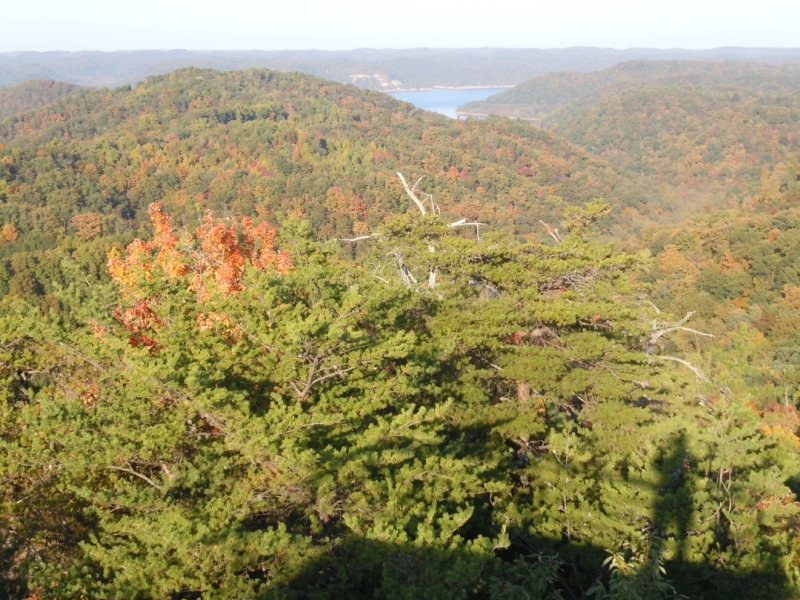 Day 2
I had breakfast, packed up, and got underway. I was on the Cave Run Trail, switching to the Hog Pen Trail in the late morning. Here I encountered a large blacksnake. I think he thought he was a rattler, as he kept switching his tail in high frequency. I had lunch at the designated second night camp site. The route followed Trough Lick Branch until its intersection with the Buckskin Trail. The Buckskin Trail follows the shore of Cave Run Lake much of the way to its intersection with the Sheltowee Trace — very pretty. This intersection is about five miles south of where the Trace crosses the Lake's dam. The route is now South and up. I reached a gap in the ridge line. To the left there was a steep spur trail up to what appeared to be a knob — with perhaps a lake view. Thinking that would be a good place to camp, up I went. It wasn't a knob nor did it have a lake view. It was the start of a ridge. I followed the ridge until it started up again. I wasn't up to another climb, so that was my camp site. No lake view, but pretty nevertheless. I had done six miles and seen no one except boaters at a distance. The camping routine was similar to the night before. Again, supper time to bedtime was the only time I felt lonely.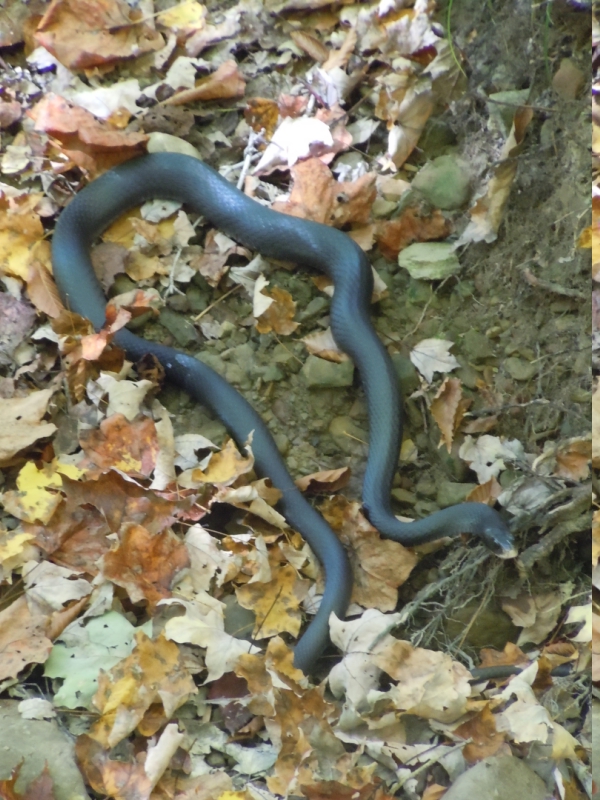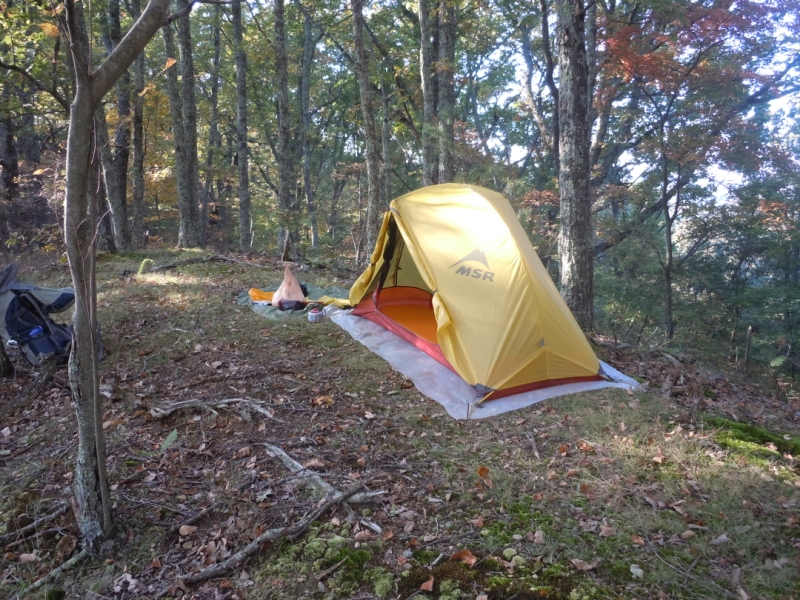 Day 3
After breakfast I made my way back to the Sheltowee Trace. In 30 minutes or so, I reached the top of ridge that I would follow for a long time. There were views of the lake, and if the leaves had been off the trees, there would have been impressive vistas to both sides. I saw two pairs of red headed woodpeckers here. Before I could get my camera out, they sneaked around to the other side of their trees. The trail descended down to the Clear Creek Recreation Area. I reached my car at about 12:20pm. I had hiked four miles and seen only two horse riders. Since my initial supply of water was consumed, I had been drinking iodine treated creek water. I had a hankering for good old tap water. I drove to the nearby Clear Creek picnic area. I found my water and excellent bathroom facilities. To my surprise — across the well-kept picnic grounds, there was a mostly intact iron furnace that was used into the mid-1800s. Just outside the National Forrest is the Clear Creek Market — a combination hunting and fishing supplies store, grocery, and restaurant. I had a bowl of beans, cornbread, and an Ale-8-One — it was a great meal.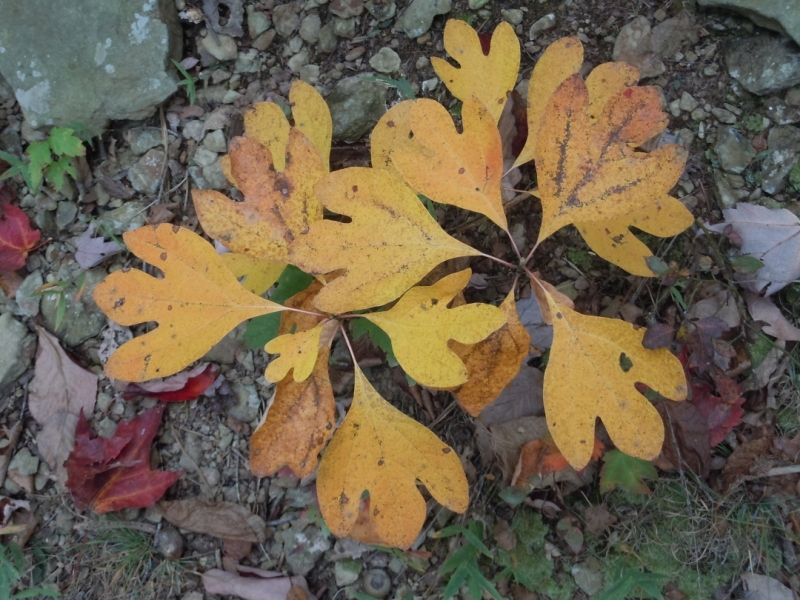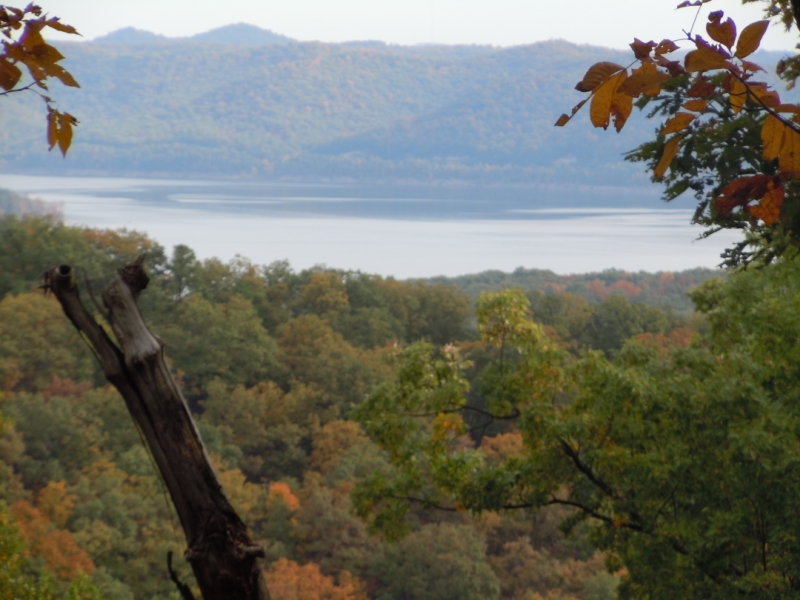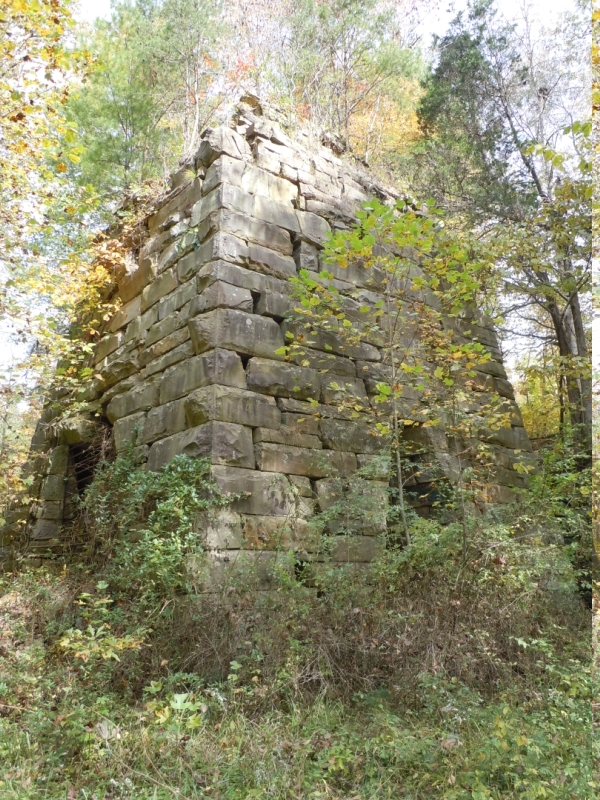 My Trail Guide
I recommend the Molloy trail guide mentioned above. The instructions are clear and accurate. The maps show points of interest and connecting trails. There are elevation profiles and information about when one should fill his water containers.
The Cave Run Lake Area
Why would one go to the Cave Run Lake area when the Red River Gorge is not far away? There are no crowds. The trails are well marked and  nicely laid out. There are plenty of switch backs to make a steep slope gradual. The elevation changes from the valley floors to the ridge tops are similar to the gorge, so there are nice vistas. There are some highlights. I mentioned Tater Knob, the lakeside portion of the Buckskin Trail, and the long ridge of the Sheltowee Trace. The Clear Creek Recreation area is nice and nearby. Why would one not? Apart from Tater Knob, I saw no noteworthy geological formations. There is a primitive weapons hunting area nearby. If the sound of gun shots in the distance bothers you, avoid the hunting season. Horses are allowed on most trails, and some riders ignore signs marking a trail for foot traffic only.